Our Award-Winning Team Goes From Strength to Strength
We are proud to be considered one of the top independent financial advisory firms in the country, with recognition across the industry.
Crucial to our success is our commitment to recruiting and developing talented advisers, so we're delighted to be celebrating with Graeme Melrose as he gains accreditation from the Chartered Insurance Institute (CII) as a Chartered Financial Planner.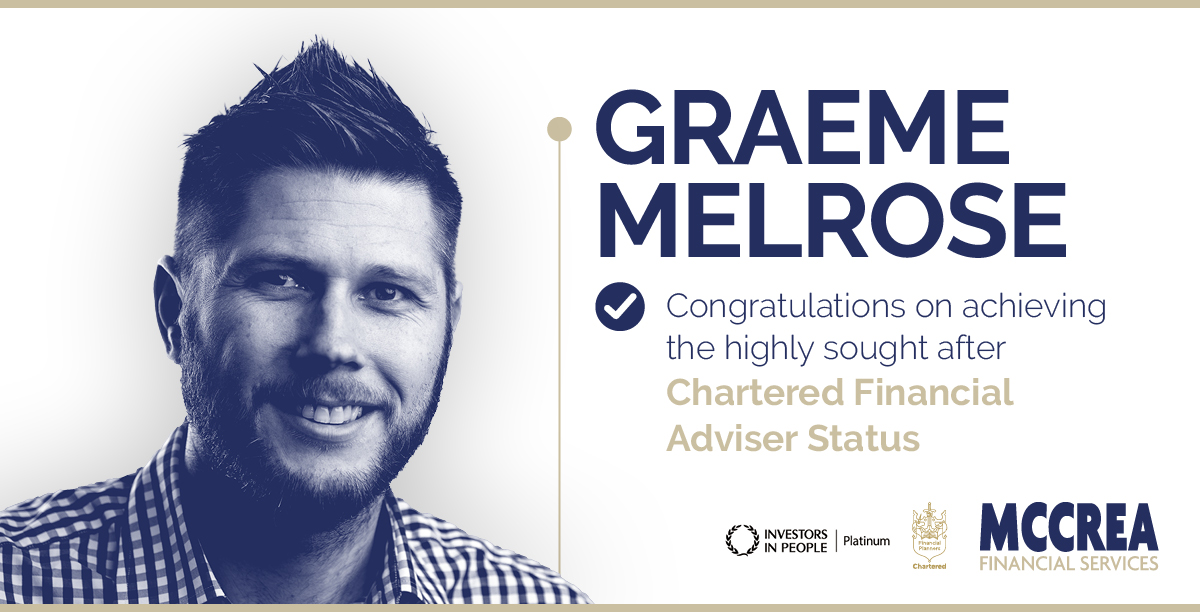 "I've been working towards Chartered status since I began working as a financial adviser back in 2007," says Graeme. "I had already achieved Diploma Level with the IFS and was determined to take this final step."
The CII confer Chartered status to 'individual professionals and firms who display eminence in their field,' with excellent standards of qualification, ethics, business practice and professional development. Graeme joins McCrea colleagues Jimmy Mitchell, Jonathan Campbell and Chris Bain in being granted Chartered status. 
For Managing Director Douglas McCrea, supporting clients begins with supporting the team in their professional development. "We encourage and support our people through their exams and development," he explains. "We pay for exam entry, courses and materials and even offer bonuses for every exam passed. Studying for qualifications means our team stays up to date with the latest technical knowledge, ultimately improving the service we can offer to clients and helping our business grow."
Achieving Chartered status is no small feat, particularly with Graeme's course of study being interrupted by the pandemic. "I've sat nine different exams since 2015 to reach this point," says Graeme, "including a big final push in these last six months with three exams and three assignments on top of ongoing work and family life. It's been a bit of a juggling act, but I'm delighted that it's done. 
"I think Chartered status gives clients peace of mind that they're working with someone professional and knowledgeable, which is so important when they're looking for advice on major financial decisions."
As an independent company, clients of McCrea can always be assured that our highly qualified advisers are giving expert, impartial advice. With a free no-obligation meeting to start with, why not get in touch for a friendly chat to see how you could benefit from working with our unbeatable team?